I enjoy hunting and fishing. Most of the meat I eat is wild game like whitetail deer, elk, caribou or moose. (I am cooking the meat from the caribou shown above as I write this.)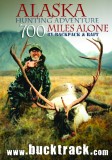 I am extraordinarily lucky to be able to live and hunt in Alaska. A few years ago I did a six week solo hunt for sheep, caribou and moose. After my return I decided to put together documentary of that trip, now available in a popular DVD.
Click here to visit my Alaska hunting page with Alaska hunting packing lists and for a list of other Alaska hunting books and DVDs. There is also a link to my DVD page, which has a highlight clip of that video,

A few years ago I wrote a popular deer hunting book called Hunting Big Whitetails, now in it's third printing. Click here for more information on my book and hunting whitetail deer. Pictured is my 2011 whitetail, which weighed 250 lbs field dressed, on a good scale.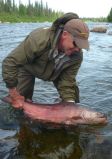 I made a video about a fishing trip on the Goodnews River in Alaska. The fishing for silver salmon and rainbows and char was great. I also fish for kings. Jim Griffin, shown, with a freshly landed fish. Click here for more information.