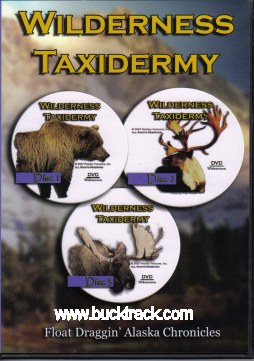 NEW VIDEO!
From the back cover:
Trophy hunting is not as simple as shooting a nice animal and delivering it downtown to your favorite taxidermist. In fact, today's Alaska hunters face the same challenges our forefathers battled at the turn of the 20th century: Remoteness and lengthy field duty.
This 3-disc set on DVD (widescreen) offers everything sport hunters must know about wilderness taxidermy.
This instructional DVD package delivers Float Draggin' Adventure, Demonstration Techniques, and Professional Taxidermy Instruction on Bear, Caribou, and Moose. It covers everything from the trigger squeeze to transporting to sealing requirements to exporting trophies outside Alaska.
Join Larry Bartlett and Mark Wade on this epic Float Draggin' tour in remote Alaska, and then learn valuable field techniques and trade secrets from renowned wildlife artist, Rich Hamilton: Brow-Tine Taxidermy
Producer: Larry Bartlett
Publisher: Pristine Ventures
DVD
2 hours 43 minutes
Copyright: 2007
New!