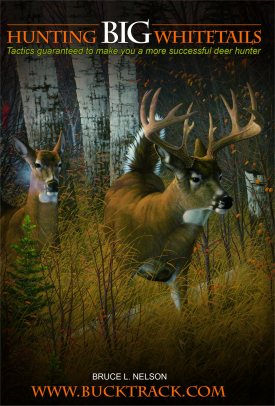 My book Hunting Big Whitetails
has earned 5-Stars in Customer Reviews on Amazon.com, and is now in it's third printing!
Hunting Big Whitetails
is a book about deer hunting for mature bucks in the "real world." It is packed with practical deer hunting tactics that the author has used on farms and on public land. Many books about hunting trophy deer are filled with pictures of large bucks killed on exclusive private ranches or on guided hunts in Canada or elsewhere. While those hunts are great for those who can afford them, Hunting Big Whitetails
is a book for the rest of us. And, should you be lucky enough to hunt Alberta or one of those big ranches someday, with these tactics you're odds will be even higher!
Real-life hunting stories illustrate the tactics about hunting from deer stands, still-hunting, deer drives, snow tracking and recovering wounded deer. You'll also find lots of practical information including the habits and habitats of whitetail deer, gear and clothing, and shooting.
Hunting Big Whitetails
has 272 pages, and is a 5 1/2″ by 8 1/2″ illustrated softcover book. It has over 60 photos, drawings and charts.
Author: Bruce L. Nelson
Publisher: Buck Publishing
Binding: Softcover
Pages: 272
Copyright: 2010
New
ISBN: 9780964597297
Sports Afield's review said: "Every hunter dreams of taking a trophy buck, but very few succeed. In the end, only those armed with the right knowledge and enthusiasm have what it takes. Exploring expert tactics for scouting, still-hunting, stand-hunting, deer drives, tracking, calling and rattling, Bruce Nelson explains in detail how the ordinary hunter can achieve extraordinary results. In addition to information on the habits and habitats of big bucks, the best firearms, how weather affects the hunt, and regions that have the most trophy deer and the lowest hunting pressure, you get advice on choosing gear and clothing. Every hunter will learn something from this informative book."
Hunting Big Whitetails
has also been recommended by Ontario Out-of-Doors, BOWHUNTER, New Jersey Outdoors, The Morning Call, BC Outdoors, Midwest Book Review, the Small Press Book Review, and many others.
Trophy Bucks Taken by Readers
| | | | | | |
| --- | --- | --- | --- | --- | --- |
| | | | | | |
| Minnesota | Kentucky | Nebraska | Pennsylvania | Vermont | Washington |
To see many more pictures of big bucks readers of Hunting Big Whitetails have taken, Click Here.
ORDER NOW!
QUOTES FROM READERS:
"A while back I bought Hunting BIG Whitetails. I took a few of your ideas and they paid off with GREAT success. I bagged the biggest Whitetail of my career, a buck that dressed 222.8 lbs! I'm having it shoulder mounted as it is my pride and joy. Thanks again."

Jarrit W.,

Ogilvie, Minnesota

"Your book helped me this past deer season. I shot an unbelievable buck in New York state. It field dressed at 230 lbs, and had an inside spread of 19 7/8 inches. I believe it will make my local record book. I want to thank you again."

Jim D.,

Meriden, Connecticut

"I read your book Hunting Big Whitetails and guess what, I got one! Thanks a lot!! 173 7/8 green gross!!"

Tim M.,

Denmark, Wisconsin

"An exceptional addition to anyone's library and HIGHLY recommended! This is the BEST Whitetail Hunting Book I have ever had the pleasure to read and now my son is reading it in preparation for his first hunt next season."

Mark S.,

Spokane, Washington

"I've really enjoyed reading your book. It's 'a great book written by a real hunter about real whitetail hunting.' You have put a lot of common sense hunting tips and insights in one book. The stories do a great job of illustrating your points as well as reminding the reader that you a real person with real life experiences."

Dave B.,

Edmond, Oklahoma

"One of the best books written. It will be a classic."

Allen P.,

Slingerlands, New York
Your Satisfaction is 100% Guaranteed!