May 22, Day 60
I was surprised when the wind died enough late in the day so it looked like I might be able to put in some miles.
I quickly packed up, did a quick check to make sure nothing was left behind, and off I went. Any miles I made would be a bonus, it was just good to get back on the river. I hadn't paddled far but when I looked behind me and saw thunderstorms approaching. Thunderstorms were also building to the east and north.
I made it about 4 miles when I could hear the thunder began to rumble and I watched for a good campsite. When I saw some willows on a flat spot I pulled over. It didn't take long to have my tent set up and tucked away quite well.
Just a few minutes after I crawled into my tent and started getting settled the storm hit. The thunder was incessant and the wind got stronger and stronger. The rain lashed my tent fly and soon I heard a couple of thumps, it was beginning to hail! If my tent were out in the open right now it would be taking a serious beating in the wind. I was feeling pretty secure where I was.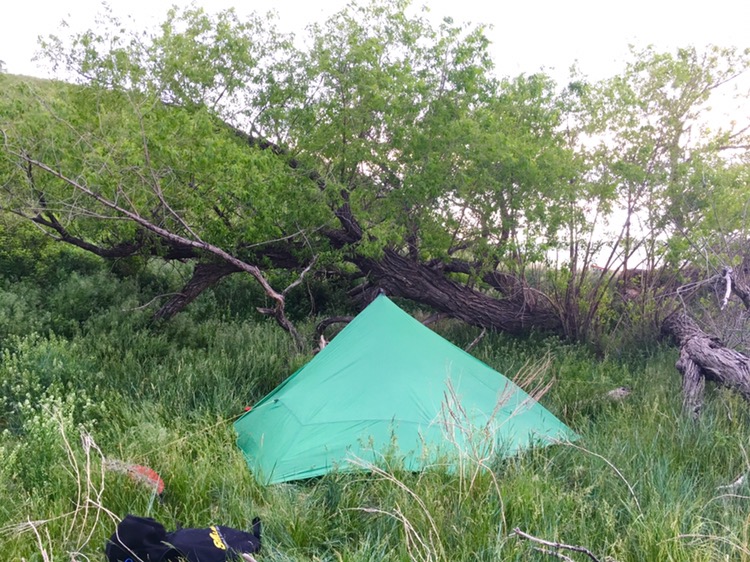 After taking my wet shoes off, suddenly I felt a cold drop on my bare foot. That's not something you want to feel when you're in a tent. I looked around and was very surprised to see multiple places where drops were trickling down from the seam the netting is sewed to. With this tent the netting is sewed directly to the fly, so any leak at that point will drip onto the bathtub floor where it would stay until it was soaked up by me or some of my gear. This was a huge surprise to me because I had used this tent extensively and it had always performed very well.
I made some adjustments that partially alleviated the problem but the leaks would definitely have to be fixed. Duct tape would not stick to the silnylon, I would need to get some silicone and that would be days away.
The storm raged on. I made sure my sleeping bag was in top of my thick air mattress; my bag would stay dry, that's what was most important. I put everything else in plastic bags or set it outside under the vestibule. Disaster averted for now.
It continued to rain but it began to slacken and the thunderstorms begin to recede.
It should be a full day paddling tomorrow. The strategy on these lakes, especially, is to make hay while the sun shines, or more literally, put miles in the bank will you have the opportunity. Colter
Clark: 2nd of October Tuesday 1804, Mr. Vallie Came on board, Lat. 44 ° 19′ 36 N. we observed Some Indians on a hill on the S. S. one Came to the river & fired off his gun and asked us to come he wish us to go to his Camp near at hand we refused, passed a large Island on the S. S., here we expected the Tetons would attempt to Stop us, and prepared for action…
Trip overview and route map with position updates: