May 13, 2016
I got to bed just after midnight after paddling from Chamberlain.
When I woke up hours later the wind was blowing hard again. Waves were rolling down the river and the wind was whistling through the trees. I would be taking my expected wind day off.
The good news about having the day off is that I had almost no chores to do. I snoozed, ate, and read. I'd picked up a biography in Chamberlain and it only took a few hours to read.
It was a good spot to be camped. The bluff and trees did their wind blocking job well. In a way it was good the wind was blowing so hard, because instead of thinking "I wish I was out there paddling," I was thinking I'm glad I'm not out there paddling!"
Up to this point I've always managed to put in a few miles each kayaking day, this was my first full wind day off. Tomorrow I expect to put in some miles.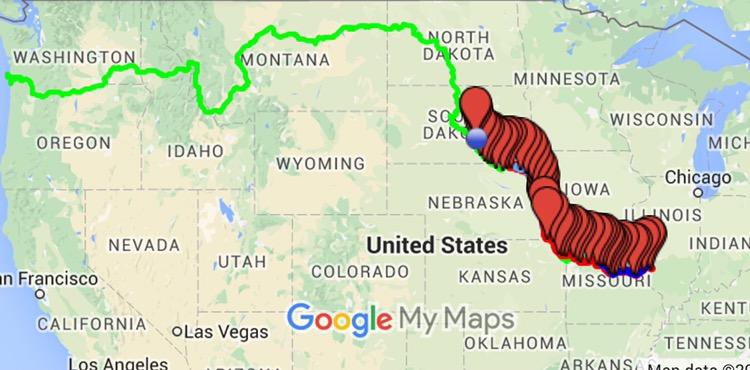 Clark: September 18th Tuesday 1804…The large wolves are verry numourous, they are of a light Colr. large & has long hair with Corrs fur. Some Goats of a Different Kind Wer Seen yesterday Great many Porcupin rabits & Barking Squirils in this quarter…
Trip overview and route map with position updates: