Even at night it was beautiful in my camp, high on the narrow grassy ridge among the cedars. The big, bright moon slowly arced overhead to the west.
I slept great.  I drank the last of my water in sips as I packed in the morning. I could get more water in 6 miles, earlier if necessary.  It was a steep descent through sometimes thick brush to the road. Traffic was light on this Saturday morning.  There was a giant complex of greenhouses on the right, they were working today with people already arriving.
Soon my route turned off on the Wabash Trace Trail, another rails-to-trails project.  It was nice to see  a few runners and walkers and bicyclists out enjoying this nice trail. I followed it for quite some distance before turning off on another bike route that went around the beautiful campus of the Iowa School for the Deaf.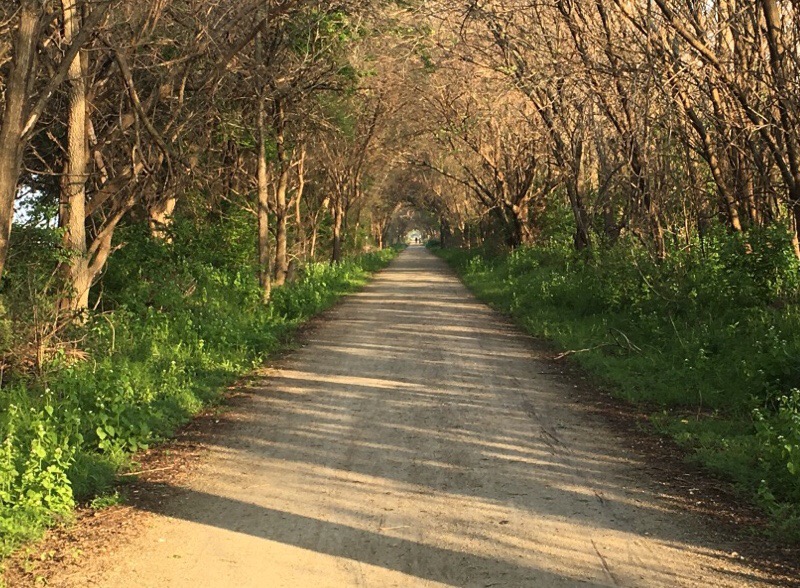 Wabash Trace
There were several signs there telling the  story of the Mormon migration through this area.  They wintered in the Council Bluffs and Omaha area before moving on to Utah.
I was looking for five things in Council Bluffs: breakfast, water, a place to recharge my electronics, food for the next section of trail, and a bandanna to use for a sun shield for my ears and neck, to replace the one that I lost.
I walked through a giant, largely vacated mall where incredibly I couldn't find a place to buy a bandanna.
McDonald's took care of the breakfast, the recharge, and the water, as well as a large cup of coffee as a bonus.
I walked a couple blocks to a large somewhat groovy grocery store and when I was checking out the cashier said:
"And what are you going to be doing on this beautiful day?" I told her what I was up to and at first she thought I just meant the Wabash Trace, but I said all the way to the Pacific. When I was walking away I heard the bag boy saying: "Oh my gosh…"
Later, walking through town, I passed a sporting good store and went in to ask if they had bandannas,  but no luck. A few blocks later here was a Walgreens and I asked an employee and she took me directly to a rack with a nice selection of bandannas. Yes!
Council Bluffs is another nice town, full of old houses with shaded porches and mature trees.  Shortly before leaving I ran across an ice cream place and enjoyed a large cone in the shade, as it had become quite warm.
The route again paralleled the Loess Hills, and now there were occasional motorcyclists enjoying the unique scenery of this back road.
I stopped at Henry's Diner in the little town of Crescent and ordered a full meal, which included two porkchops, bread, fries, a nice big salad, and veggies.  It was delucious it and so much I had to take the fries to go.
Even with all the goofing off and eating and shopping and whatnot I managed to put in about 23 miles today.  Once again I climbed quite some distance up a hill, and found another beautiful camp spot on a grassy ridgetop, this time among big oak trees.
Clark
July 22nd, Sunday 1804
This being a good Situation and much nearer the Otteaus town than the Mouth of the Platt, we concluded to delay at this place a fiew days and Send for Some of the Chiefs of that nation to let them Know of the Change of Government, The wishes of our Government to Cultivate friendship with them, the Objects of our journy and to present them with a flag and Some Small presents Some of our Provisions in the French Perogue being wet it became necessary to Dry them a fiew days—
26th of July Thursday 1804 the wind blustering and hard from the South all day which blowed the Clouds of Sand in Such a manner that I could not complete my pan in the tent, the Boat roled in Such a manner that I could do nothing in that, I was Compessed to go to the woods and Combat with the Musqutors, I opened the Turner of a man on the left breast, which discharged half a point. five Beever Cought near this Camp the flesh of which we made use of-This evening we found verry pleasent—
Lewis, July 27, 1804
Camped in a bend to the L. S. in Some wood, I took R. Fields & walked on Shore & Killed a Deer, and did not get to the Boat untile after night a butifull Breeze from the N W. this evening which would have been verry agreeable, had the Misquiters been tolerably Pacifick, but thy were rageing all night, Some about the Sise of house flais
Trip overview and route map with position updates:
https://bucktrack.com/Lewis_and_Clark_Trail.html