The sound of a strong wind woke me up at about 4 AM. There was a mysterious flash of light. I watched and there was another and another and another. A thunderstorm was rolling my way from the north. There was a flash of lightning perhaps every second or two or three, but I could hear no thunder.
Surprisingly, I could see well enough to get my shelter organized so that nothing was near the edges of the fly where it might get dripped on.
After a while I could hear the first rumbles of thunder, and then more and more as the wind continued to shake my tent. Rain began pattering on my tent, now coming down harder and harder. It was quite a racket with the thunder and the wind and the roaring of the rain on the shelter fly. It was good soil so I knew my tent stakes would stay in place and there was good drainage. What wasn't ideal is that I was camped along a ridgetop. I peeked under the tent fly and watched as the lightning flashed. Lots of big oaks along this ridgetop so it wasn't too bad of a spot, with all those objects much taller than myself. If I was camping onan open ridge I would be packing up to leave.
I fell back to sleep for a while and when I woke up once again the rain was diminishing and the lightning was moving away towards the south. In a lull in the rain I began packing quickly, and soon was all packed up and heading down the hill to the road.
There was a town about 10 miles away, a town called Missouri Valley, where I was going to get my next food supply. I decided to walk it straight through without a sitdown break.
Just as I entered town there was a restaurant but it was closed. A train, with flashing red lights at the crossing, was blocking my way. I had to walk to the next crossing, in the wrong direction unfortunately.
Two girls were playing on a porch. "Hi!" one of the yelled.
"Hi. Is there restaurant on this street?"
"Yes. See that stop light? There's one right there."
"Thanks!"
I wanted to sit down. Unfortunately that restaurant was closed. I wandered around for a few blocks until I finally found a place called Papa Joe's that was open. It was a bar but they had pizza so that would work for me.
The pizza was actually surprisingly good. When I arrived there was just a cheerful bartender and an older fellow drinking a beer. More people wandered in is I waited for my pizza. The older fellow wanted to know what I was doing.
"But why would you want to do something like that? Are you a millionaire or something. What's the point?" Talk of adventure, challenge, history meant little to him.
The rest of the small crowd was more understanding, but their faces clearly showed no interest in tackling something like this themselves, which is perfectly understandable.
I headed north out of town. I was noticing that the trees still are only about two thirds leafed-out which is surprising, because they were already leafing out in St. Louis one month ago today. I suppose I have come nearly 200 miles farther north though, so that makes some difference.
The weather forecast was showing thunderstorms tonight starting at about 4 PM including the possibility of some severe storms. That immediately planted the idea of looking for another good concrete bridge to camp under into my head.
I found a nearly perfect bridge before the storm hit. The storm didn't amount to much until just before sunset when it hit in earnest, the sky a strange color, the rain hammering down, the wind howling amidst relentless thunder and lightning. By midnight it had passed.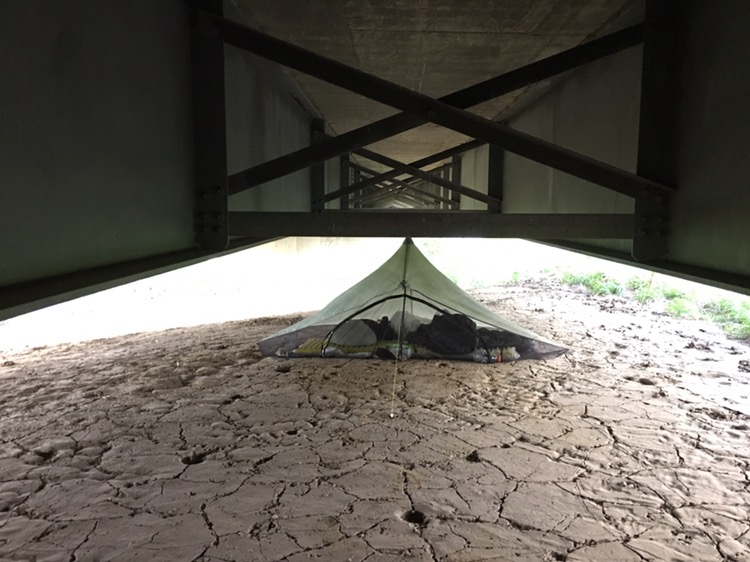 Clark
July the 28th, Satturday 1804…G Drewyer brought in a Missourie Indian which he met with hunting in the Prarie This Indian is one of the fiew remaining of that nation, & lives with the Otteauz, his Camp about 4 miles from the river, he informs that the great gangue of the nation were hunting the Buffalow in the Plains.
Trip overview and route map with position updates:
https://bucktrack.com/Lewis_and_Clark_Trail.html