May 31, Day 69
I was mighty tempted to stay in my comfortable camp today. Winds gusting up to 40 miles an hour were predicted. It didn't seem too bad at 5 AM however, so I decided to break camp to see what I could do.
I paddled for about an hour and made a few miles before the wind started to come up. I stopped for a break and explored for a campsite. There was a nice spot but it had just been trashed over Memorial Day weekend. It's amazing how some people feel it's OK to walk away from a pile of their trash.
I paddled on. It was the wind and the current that stopped me. I fought my way over to the wind-protected side of the river but there the current was extremely strong. When I tried to go out to the middle of the river to escape the current the wind hit me and I found that I was barely moving despite paddling hard. On one bank was a steep bluff extending well up river and on the other side was nothing but sandbars. I swung the boat around and headed down river looking for the first reasonable site.
I hoped for a camp in the cottonwoods but I found a flat spot slightly tucked away in the edge of some brush. There was some poison ivy around but I would avoid it as much as I could.
I made a comfortable camp, unloaded the boat and carried it up to serve as a partial wind break.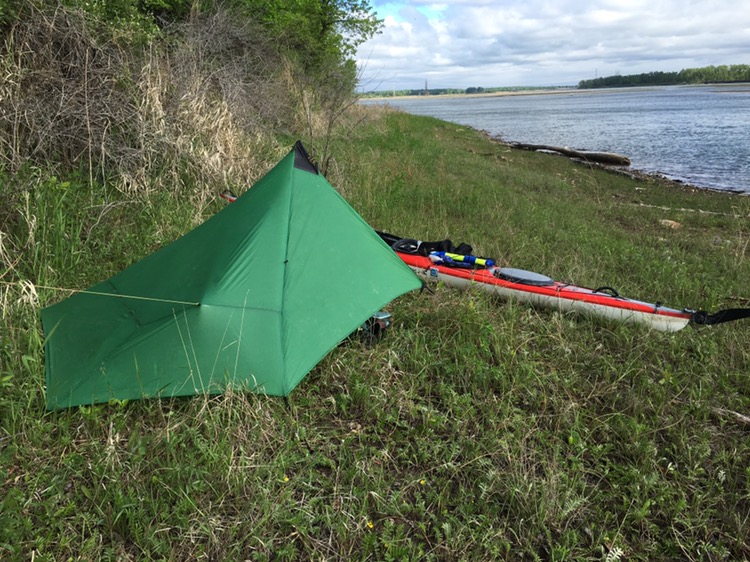 It's amazing how quickly conditions change. At times the wind be howling and it was clear I had made a great choice. Then the wind would die briefly and the sun would come out and I would think I could be paddling. There was considerable rain today, however, and the wind got even worse and now in the early evening it's blowing hard so was a good decision quitting early. Tomorrow looks to be just as windy but if it's fairly calm at dawn I'll start paddling and see what happens. Colter
Clark: 23rd of October Tuesday 1804 a cloudy morning Some Snow Set out early pass five Lodges which was Diserted, the fires yet burning we Suppose those were the Indians who robed the 2 french Trappers a fiew days ago those 2 men are now with us going up with a view to get their property from the Indians thro us. cold & Cloudy…
Trip overview and route map with position updates: