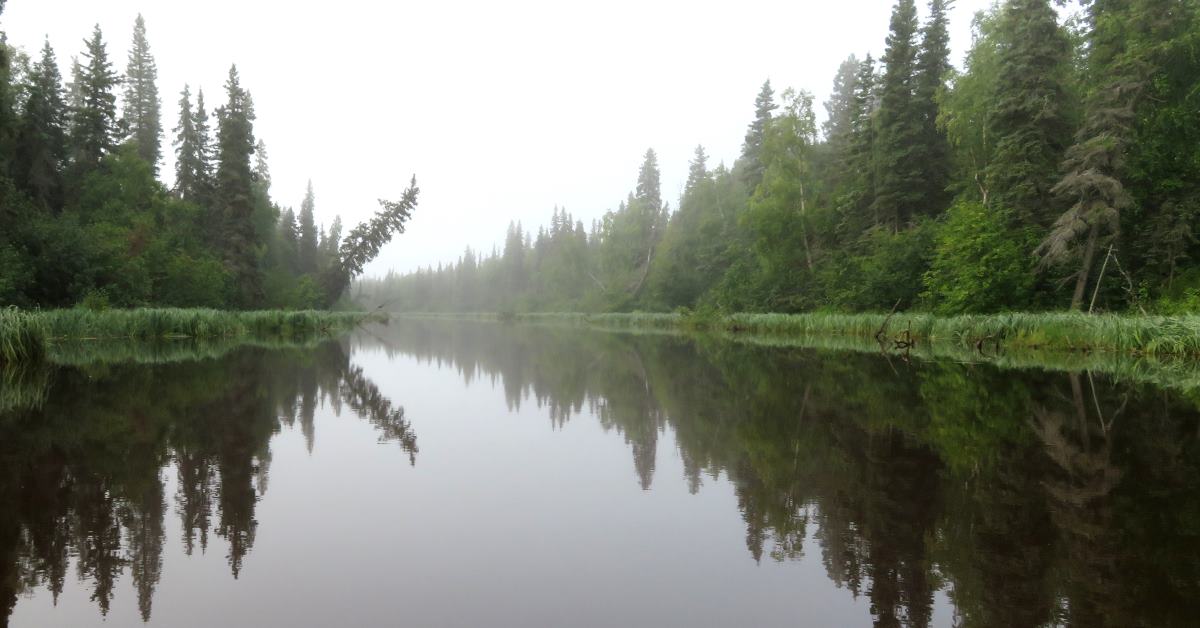 August 17-20 It's foggy and damp this morning. The first order of business is to filter clear water before I reach the glacial-silted Kuskokwim River.  I walk through wet brush down to a tiny brook and filter my water bottles full. The gnats use this opportunity to swarm me.  I  fill up my filter bags to filter later, under hopefully less buggy conditions. My full sized Sawyer filter is hard to beat. On the trail,  using a Sawyer with a Smartwater bottles, with another as a spare, is a good choice. (No relationship to either company.)
I inflate my kayak in minutes with my little hand pump. I take a good look around for misplaced items, then launch out onto a foggy, glassy, Mud Creek.  It's still and calm, peaceful and beautiful.
As the morning progresses the fog burns off. I paddle in the warm sunshine, a solar charger bungee-ed to my drybag, charging up my USB battery.  My GPS is toasting in the sunshine, its battery cover off. I'm hoping the condensation inside will dissipate.  What a glorious, stress-free way to travel!
In a couple of hours I reach the confluence of the Kuskowim, the last in the series of rivers I've hiked and paddled this summer: The Aichilik River, the Coleen, Porcupine, Yukon, Tabliksok, Johnson, Crooked Creek, Mud Creek, and now the Kuskokwim.
It's one of the most beautiful, pleasant paddling days of the whole trip. I pass a bald eagle nest with two big chicks guarded by  watchful parents. A bull moose feeds in flooded willows along the river's edge.  A handful of power boats pass me today. Their hulls are v-shaped for bigger water. Most of the river boats on inland rivers are flat-bottomed for to navigate shallower water.
I camp late, right next to my boat, enjoying the evening sun.
It's dewy in the morning. Before packing I use my bandana to mop up condensation on the inside of my single walled shelter. With food to spare, I mix up a double batch of my coffee mix, each little Ziploc holds 1 Tablespoon instant coffee, 1/4 cup Nido dried whole milk, and 2 Tablespoons Boost. Not something I'd drink at home, but great out here where I'm working so hard.
Paddling down the river now there's a decent current so I'm making good progress. There are more boats today. I'm a bit surprised that nobody stops to say hi. I haven't talked to anyone for nearly three weeks, since Galena.  A barge full of gravel passes me.  Hours later I see the same barge being unloaded at the village of Akiakchak.
Trip introduction and journal calendar
I can't find an island to camp so I eventually land where a log is sticking out of a steep bank, backing up floating debris. I climb up on the log and unload my kayak.  It's a nice campsite with a good view of the river.
It's almost full dark, in the middle of the night. A boat is roaring past, upstream, probably going home on a trip to a village on the lower river. I hope whoever it is is wearing a life jacket.
When I wake up I realize that this might be my last full day of the trip. I should make it nearly to Bethel, the end of my journey, tomorrow.
Because I'm so close, I'm especially interested in tracking my progress. My stand-alone GPS is showing my position but it still won't zoom, so the map is tiny. My iPhone GPS works only sporadically. [Note: this is still a mystery. It has worked flawlessly since the trip.  I think it is related to no cell/wifi coverage for weeks.  It's never been an issue on other long trips.]
There are more boats and villages and fish camps as the day progresses. By Alaska bush standards, this is the suburbs. In several places fish camps are falling into the river as the river slowly changes course. What I find somewhat baffling is that at most eroding camps the belongings seem to have been abandoned as well. Gas cans, fishing nets, chairs, toys, all manner of items teeter on the bank or swirl in eddies.
Late in the day, I decide to camp just outside of Bethel. Maybe I'll have cell coverage to book a flight, if not, I'll have a  full day tomorrow to figure out a plan.
I camp in a nice opening in the alders only about two miles out of Bethel.  With my green boat and green tent none of the passing boats notice me.  It's exciting to know that with luck I'll be home in my cabin tomorrow! Despite being so close to this major village, I've got no cell coverage to book a flight. I hope I can get a flight tomorrow!
August 20 I'm about to enter a different world, a world with schedules and the idiosyncrasies of people, but also a world of hot showers and comfort.  I start sorting out gear early in the morning, making a pile of clean clothes, separating all my trash for disposal, setting aside things I don't want to fly with, like my bear spray.  I take a sponge bath to make myself a bit more presentable. In Alaska bush communities however, the dress standards are very casual.
At about 8 AM I launch out into the current of the Kuskowkwim. Around a slight bend I see Bethel on the west bank of the river, not high above the water. A steel river wall protects it, to some degree, from the erosion of the river.  Barge-unloading derricks stick up into the sky. Powerlines and one story buildings line the bank.
A car drives by on a road running along the shore.  There's a nice gravelly area to land. The bow of my kayak crunches ashore.  I step out at the end of my long wilderness journey, some 1,550 miles as the river winds, far from the ice of the Arctic Ocean.
Afterword
A young Yupik fellow called a cab for me.  I gave my driver the bear spray and extra stove fuel. At the airline counter my heart sank when the agent told me there were no flights available today. A full day to wait, an expensive hotel room, a couple more cab rides, bummer. As I puttered around my gear the agent waved me back over.  "A seat just opened up, you can fly out in an hour." A few hours later I walked up to my cabin, the smell of autumn in the air.  It was good to be home.
---
If you've enjoyed this story, you'll like my film Alone Across Alaska: 1,000 Miles of Wilderness, a documentary of my traverse of the Brooks Range, available in DVD or streaming.
Another big adventure is described in my book Alone in the Fortress of the Bears; 70 Days Surviving Wilderness Alaska: Foraging, Fishing, Hunting Available in Kindle, paperback, or now as an audio book!
My most recent book is Hiking the Pacific Crest Trail: Mexico to Canada in paperback or Kindle.